Navigation anzeigen
Meeting of the Council of the Heads of CIS in Ashgabat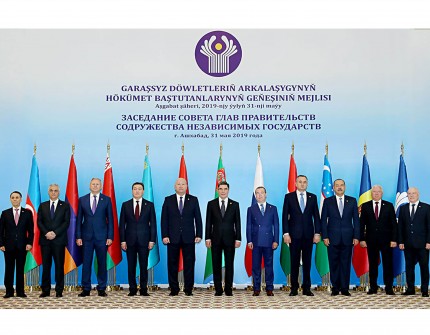 On the 31st of May 2019, the meeting of the Council of the Heads of Governments of the Commonwealth of Independent States was held in Ashgabat.
To attend this meeting, numerous high-level delegations of the states-participants of the CIS arrived to Turkmenistan.
Among the participants, Prime Minister of the Republic of Azerbaijan N.I.Mammadov, Deputy Prime Minister of the Republic of Armenia Mher Grigoryan, Prime Minister of the Republic of Belarus S.N.Rumas, Prime Minister of the Republic of Kazakhstan A.U.Mamin, Vice Prime Minister of the Kyrgyz Republic Zhenish Razakov, Ambassador Extraordinary and Plenipotentiary of the Republic of Moldova to Belarus W.Sorochan, Head of the Government of the Russian Federation D.A.Medvedev, First Deputy Prime Minister of the Republic of Tajikistan D.Said, Prime Minister of the Republic of Uzbekistan A.N.Aripov, also Chairman of the CIS Executive Committee – Executive Secretary S.N. Lebedev.
The session was held in narrow and wide formats. During the speeches, vital input of Turkmenistan in the activities of the Commonwealth in the framework of the chairmanship of the country in the CIS during the current year was emphasized.
During the negotiations, the parties thoroughly discussed the issues of cooperation in political, trade-economic and cultural-humanitarian spheres. Also the significant role of the CIS in the processes of regional economic development, including provision of peace and stability was stressed.
Particularly the aspects of developing transport links between the countries, collaboration in the area of high technologies and scientific research were considered. Also, the parties looked at the opportunities for widening cultural cooperation.
According to the results of the meeting, it was decided to hold the next meeting of the CIS Council of Heads of Governments in Moscow on October 25, 2019.
In accordance with the outcomes of the session of the Council of Heads of Government of the Commonwealth of Independent States, a solid package of documents was signed. In addition, the participants signed the Interstate Programme of Innovative Cooperation of the CIS countries for the period up to 2030, which will give impetus to the development of interstate innovation space, uniting the possibilities of national Innovation systems of the CIS member states.
Österreich-Turkmenische Gesellschaft